What will teachers experience?
Teachers can expect to watch their students grow and bond through a soul touching, people to people cultural exchange with their Cuban peers who will demonstrate their discipline and dedication to the arts and sport. The high level of achievement of the Cuban students, the completely different system of education, their excellent results despite a lack of much of which we take for granted, all will lead to a greater appreciation by your students for what you do. Cuba is alive with energy!  You and your students will return home enriched by their enthusiasm for art, music, dance, and sports. Viva Cuba culture!
About the Trip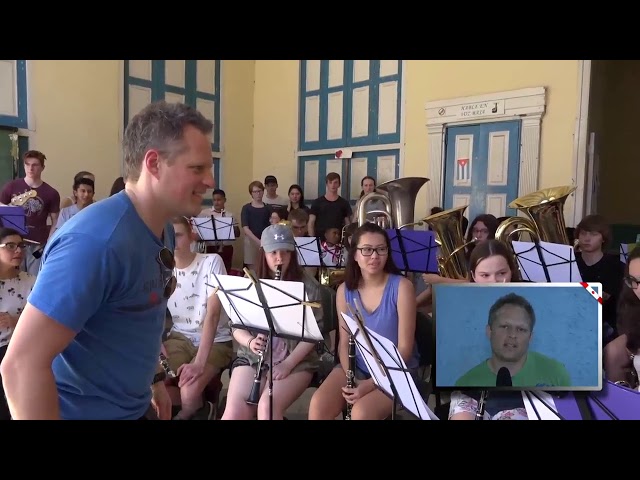 Our most frequently asked questions
Yes, Cuba is considered to be the safest Island in the Caribbean and Havana the safest city in Latin America.
Lots of it, although it may look different than what you are used to. Most meals are buffet-style so you can pick and choose what you like. There are no North American style fast food restaurants in Cuba.
Canada Cuba Sports & Cultural Festivals (CCS&CF) has over 25 years worth of experience in arranging sports and performing arts tours, conferences and events in Cuba for numerous North American organizations. We represent agencies and institutions of the Cuban Ministries of Culture, Education, Science & the Environment and Sport. We also facilitate programs in Cuba for universities, schools, professional associations and research/cultural institutions and sports federations located in Canada and the United States. Each project is custom designed to meet your group's requirements, within a framework of guiding principles; link people sharing common interests, project an honest image of each other's reality and encourage co-operation. Our team of caring and highly experienced professionals will work together with you in planning and delivering every aspect of your custom program to ensure that your trip meets all your expectations.
A valid passport is required for entry into Cuba. Passports must be valid for 6 months after your expected date of return. Any passenger without a valid passport will not be allowed to board. Landed Immigrants must also present a Permanent Resident card. The Cuban tourist visa will be handed out on board your flight to Cuba. Passengers who are not Canadian Citizens are advised to contact the Cuban Embassy to determine if a special visa is required for entry into Cuba. Please note that American citizens are no longer allowed to travel to Cuba with us under a General Travel License from the U.S. Treasury Department, they must apply for a Specific License. New: Visa-exempt foreign nationals need an Electronic Travel Authorization (eTA) to fly to or transit through Canada. Exceptions include U.S. citizens and travelers with a valid Canadian visa. A visa-exempt foreign national is a person who is not a Canadian citizen or a permanent resident, and who does not normally need a visa to enter Canada. Please click on the link for more info. Please note that entry to another country may be refused even if the required information and travel documents are complete.
Your group will be provided all ground transportation via a modern air-conditioned coach as outlined in the itinerary. Taxis are also readily available from the hotel for those wishing to go out in the evenings.
Please note that the Cuban government now requires all visitors to show proof of medical insurance. Visitors without out-of-country medical insurance will be required to buy medical insurance from a Cuban insurance company at the airport to be allowed into the country. Although proof of Canadian provincial health insurance is sufficient for visitors to enter Cuba, your provincial plan may cover only part of the costs, so it is recommended that you buy supplemental health insurance. Please note that the optional Manulife travel insurance that we offer meets all Cuban government requirements.
Our bilingual guides stay with your group 24/7 at the hotel to offer assistance with any special needs/emergencies. Cuba has a great health care system and there are many hospitals and clinics all over Havana. The hotels have a doctor and nurse on site, as do the schools that will be visited in Havana, so help is always nearby. Bring any medicines you are likely to need. While there is an excellent health care system in Cuba, it will be extremely difficult to find certain medicines in the countryside.
Entering Cuba: In addition to personal jewelry, cameras, cell phones, laptops, and other valuables, visitors are allowed to bring into Cuba, duty free, 2 bottles of liquor, 1 carton of cigarettes and up to 10 kilograms of medicine. Gifts up to a value of $250 CAD can also be brought in. Of that, $50 is duty-free; the rest is 100 % taxable.